Hamilton Mountain Heritage Society
Recovering, recording and preserving the history of
"The Mountain" in Hamilton, Ontario, Canada.
Next Meeting of the HMHS
The next meeting of the Hamilton Mountain Heritage Society will be held on Thursday, January 18th., 2018, at The South Gate Presbyterian Church, 120 Clarendon Ave., Hamilton, at 7:30 pm. This will be the Annual General meeting of the HMHS.

Be sure to read the latest HMHS newletter Bailey's Bulletin for October 2017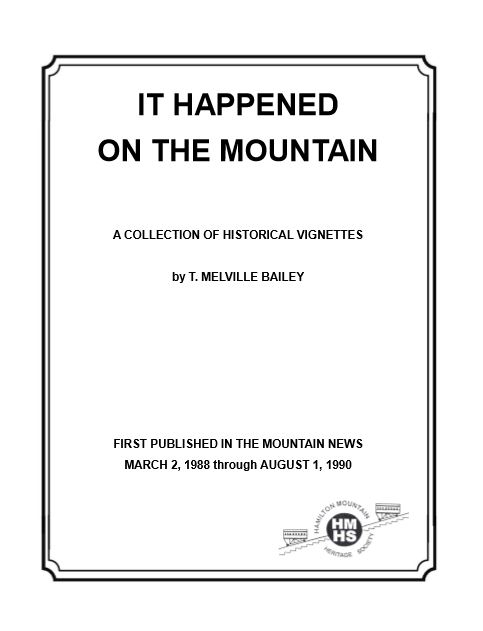 It Happened
on the Mountain

This is a collection of articles originally written by the Rev. T. Melville Bailey for publication in the Mountain News between March 1988 and August 1990. It is now being published in booket form for the first time and released in January 2017. The cost is $10.00. This is a "must have" resource for the collector of Hamilton Mountain history. To view a poster related to this publication select It Happened on the Mountain. It may be ordered directly from the Society at hamiltonheritage1@gmail.com

The speaker at the January 2015 HMHS meeting was Gary Evans who has produced an extensive series of historical pictorial publications relating to the Hamilton area. He also maintains two pictorial collections on Facebook that will be of interest to the heritage community. You may wish to check out Vanished Hamilton and Hamilton Historical Photos.


We have added a new feature to our website
Many in our community have become familiar with the monthly columns that Bob Williamson, one of our members, has been writing for the Mountain News under the title "Mountain Memories." To facilitate access to this material Bob's columns are being archived on this website. New items will be added monthly. Check out Mountain Memories

Portrait of Isaac Buchanan Unveiled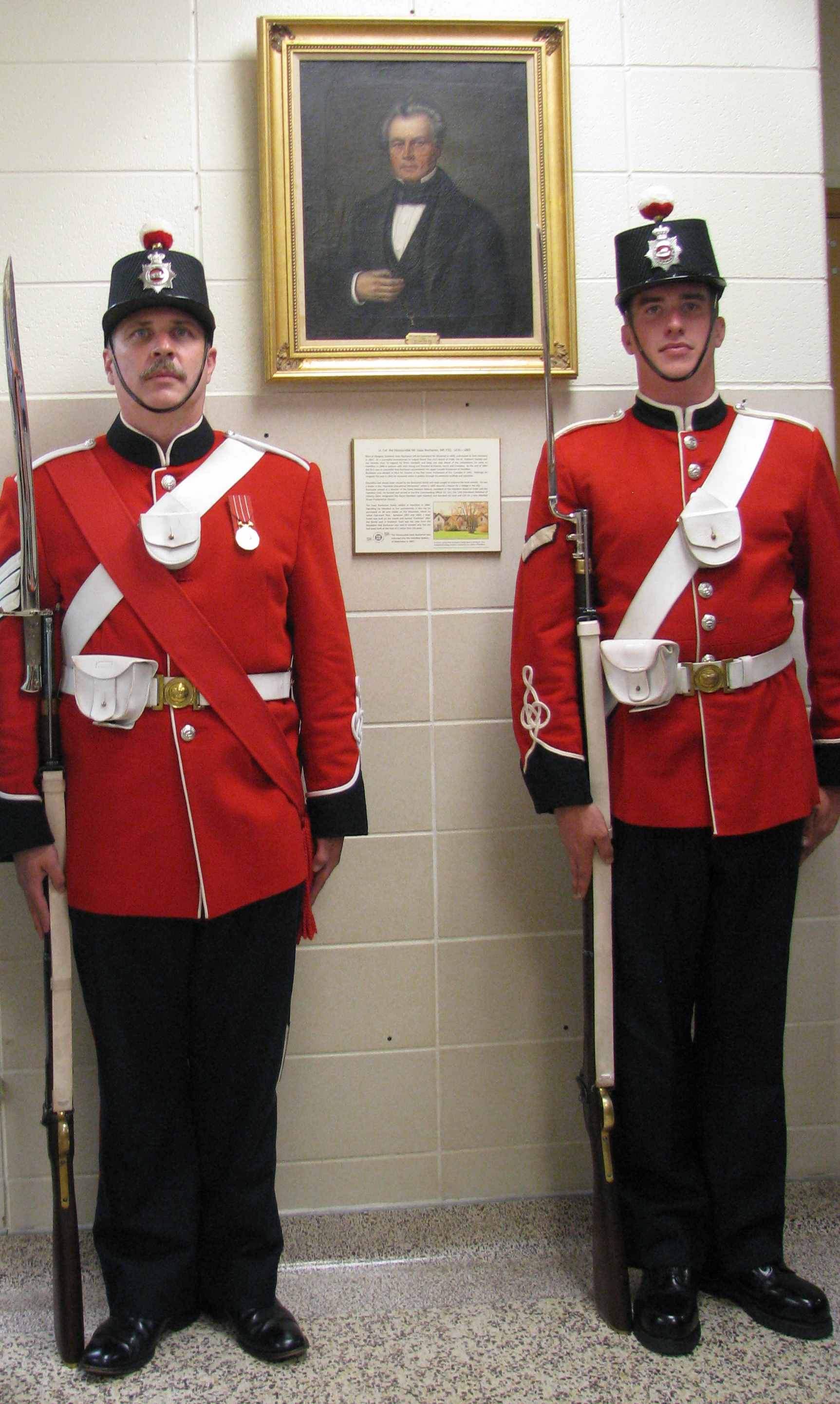 On September 18, 2013, a portrait of Isaac Buchanan was unveiled at its new home in Buchanan Park School. The portrait, owned by the Hamilton Mountain Heritage Society, is on loan to the school. Our ultimate dream is that Auchmar will be restored and remain a public building and the portrait of Buchanan can then grace its walls. The drama of the unveiling ceremony was enhanced by the presence of an Honour Guard from the Royal Hamilton Light Infantry.

You Were Asking
One of our goals is to encourage people in the Mountain Community to pursue their own personal, and community research projects. We have devoted a page of our website to publicizing some of these projects with the hope that others who visit here may have something of value to contribute. Amongst our recent inquiries ...
Someone wrote asking for information about the Twin Schools on the Mountain. We were able to supply some information and as a consequence the HMHS now has some additional photos in its archives.
An inquirer asked for information about an old Hamilton pop bottling company (probably between 1930 - 1970s) called Majestic Beverage Co (Hamilton, ON). They would like to know where the company was located, how long they were in business, what brands of soda pop they produced, etc.
We were contacted recently by someone researching the 5th. Regiment of Lincoln Militia (which included recruits from Barton Township). They would like to connect with anyone who shares this interest.
Another recent inquirer is a descendant of Daniel and Elizabeth (Windecker) Young of the Barton area and is seeking information and photographs. To see the details of these and other inquiries click on You Were Asking.

The HMHS is Now on Facebook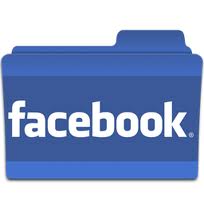 Be amongst those who visit and "Like" the HMHS Facebook page. Current news and highlights related to the HMHS are posted there. To visit us on Facebook click the Facebook icon in the right hand column.

Mountain Memories
To secure more information about "Mountain Memories", a wonderful pictorial history of the Hamilton Mountain or for additional information about the various publications that are currently available through the Society click on
HMHS Publications
.

Gary Kaulback Releases another Heritage DVD
Gary Kaulback's first DVD,"On the Mountain" provided an excellent introduction to the history and heritage of Hamilton Mountain. He has since produced two additional DVDs that focus on the historical heritage of the Hamilton community - "On the Bay" and most recently "On the Town." For more information about these videos, sample footage and information about where they may be purchased visit hamiltonmountain.ca.

Questions about our community?
Visit our
"You Were Asking"
page to learn how to submit questions or to help with the challenge of finding answers.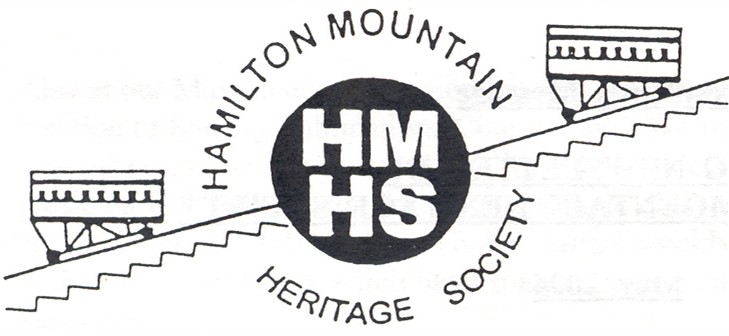 We would like to hear from you!
General communications with the HMHS should be directed to
hamiltonheritage1@gmail.com
. Correspondence related specifically to the website should be directed to the HMHS Webmaster, at:
bernhardt.r@gmail.com